IoT, along with cloud computing, is a major contributor to the fourth industrial revolution and is necessarily becoming a part of our lives. The challenges with IoT is that many enterprises only focus on IoT development without evaluating or learning the primary challenges that they are facing. Many of these enterprises do not even have any background in the IT industry or software development but most of them are committed to providing Internet-connected devices.
The Internet Of Things has been facing many areas like Information Technology, Healthcare, Data Analytics, and Agriculture. The main focus is on protecting privacy as it is the primary reason. The integrated effort from the government, civil society, and private sectors would play a vital role in protecting the following values given below to prevent IoT from getting hampered.
The Internet of Things (IoT) is one of the hottest technologies in the era of digital transformation, connecting everything to the Internet. It is the core technology behind smart homes, self-driving cars, smart utility meters, and smart cities. But there are nine main security challenges for the future of the Internet of Things (IoT). While IoT devices bring effective communication between devices, automate things, save time and cost, and have numerous benefits, there is one thing still concerning the users-IoT security.
Challenges in IoT
Connectivity
The core of the Internet of Things application development is the real-time transmission of data. But nowadays this become a challenge because of poor connectivity. Connected devices that provide useful front-end information are extremely valuable.
But poor connectivity becomes a challenge when IoT sensors are required to monitor, process data, and supply information. The best example of an IoT of application suffering due to connectivity is huge manufacturing companies that utilize IoT sensors connected to data platforms that cannot perform due to server breakdown.
Connectivity is the main issue, i.e., how to connect devices to the Internet and the cloud computing platform. So, this is determined by the device application environment and the type of communication infrastructure provided to these devices.
For example, if we develop a smart home device, such as an online toaster, we may access a Wi-Fi home router. So, the device must support one or more transmission media. furthermore, in some environments, such as the agriculture IoT or smart cars, access to the Wi-Fi network is unavailable, so in that situation, a mobile network is the only choice for connectivity.
On the other hand, if we compare computers and smartphones that may be quickly replaced by new products, IoT devices have a longer life cycle. For example, a smart refrigerator must work for at least five to ten years. Therefore, we must develop a plan to ensure that our device can maintain its connectivity and adapt to new technologies when IoT begins to take shape in the future.
A global mobile satellite company Inmarsat revealed that 24% finds connectivity issue to be one of the biggest challenges in IoT deployment. The quality of signals collected by the sensors and transmitted over to the Networks largely depends upon the routers, LAN, MAN, and WAN.
These networks have to be well-connected through different technologies to implement quick and quality communication. But the number of connected devices is growing at a much higher rate than the network coverage, which creates monitoring and tracking problems.
Security and Privacy
IoT security has always been a controversial issue, The first challenge to be considered is that the security and privacy of IoT are fundamentally different from network security. The security we are talking about here is not only the network security but the security of all the components involved in IoT applications. If the data is stored, then the largest challenge is compliance with various legal and regulatory structures.
The same practice should be employed with mobile, web, and cloud applications and services used to access, manage, and process data associated with IoT devices. Secure development of mobile app and web-based IoT applications can be quite difficult for small companies with limited budgets and manpower. It can be a collaborative effort between companies and customers to plan and implement collaborative data security policies for successful IoT implementation.
Physical Security: IoT devices are often located in open fields, so these devices are not physically protected. So we assure you that they will not have maliciously tampered with vile organizations, imposed by hackers and we must also protect the data stored on the devices in any form. Although it is costly to embed a security protection component on every IoT device, it is still important to encrypt data on these devices.
Security of Data Exchange: Data protection is also important because data get transmitted from the IoT sensors and devices to the gateway, and then to the cloud. Therefore, the use of encrypted transfer protocols is a must. It is very important to assure that data encryption protocol is followed while the application's development.
Security of Cloud Storage: Data stored in the cloud is very delicate as other parts of the IoT ecosystem. So it is a challenge for developers to assure that the IoT platform is properly encrypted. Protection measures include appropriate encryption access control and so on.
Update: Data fetched by IoT devices are always under certain rules. In this case, we must first have a plan to fix errors and quickly release punches We must provide customers with a direct and secure method to fix errors. Currently, it is popular to update online devices over the air, but we must ensure that the above method itself will not become a security vulnerability.
Security Data Protection and Security Challenges
In this interconnected world, the protection of data has become really difficult because it gets transferred between multiple devices within a few seconds. One moment it is stored on mobile, the next minute it is on the web, and then the cloud. All this data is transferred or transmitted over the internet, which can lead to data leaks. Once the data gets leaked, hackers can sell it to other companies that violate the rights of data privacy and security.
Safety of Patients
Most IoT devices are left unattended, as they are connected to real-world objects. If used on patients as wearable devices, any technical error in security can be life-threatening for patients.
Security and Personal Privacy
There has been no research on security vulnerabilities and their improvements. It should ensure the Confidentiality, Integrity, and Availability of the personal data of patients.
Home Security
Today, more and more homes and offices are getting smart with IoT connectivity. The big builders and developers are powering apartments and the entire building with IoT devices. While home automation is a good thing but not everyone is aware of the best practices that should be taken care of for IoT security.
Even if the IP addresses get exposed, this can lead to the exposure of residential addresses and other contact details of the consumer. This leaves smart homes at potential risk.
Security of Autonomous Vehicles
The self-driving vehicles or the ones that make use of IoT services are also at risk like homes. Smart vehicles can be hijacked by skilled hackers from remote locations. Once they get access, they can control the car, which can be very risky for passengers.
Cybersecurity
Most traditional cybersecurity protection tools have focused on networks and the cloud. Endpoint and over-the-air (OTA) vulnerabilities are frequently overlooked. While mature technologies like Bluetooth and WLAN are used in many applications, little has been done to address the OTA vulnerabilities.
The complexity of these wireless protocols translates into potential unknown pitfalls in device radio implementations that could allow hackers to access or take control of a device. OTA vulnerabilities and potential points of entry into endpoint devices should be identified, and devices should be tested using a regularly updated database of known threats/attacks to monitor device response and detect anomalies.
Flexibility and Compatibility
Because IoT pattern is continuously changing, we must assure that our product can support future technologies. However, it requires to balance between software and hardware when designing the product. If we are developing dedicated hardware for our device to help the device achieve the optimum performance, but may also restrict product updates.
On the other hand, selecting appropriate storage and computing resources, and operating systems tailored for IoT may cause degradation of performance, but allows to flexibly expand the device, use new functions, and fix bugs using patches.
We must also think about compatibility when designing IoT products. We assure that our IoT device can get seamlessly integrated with users' IoT ecosystem, without increasing complexity or bringing any setbacks to the existing experience. For this purpose, we need to consider both software and hardware.
Data Collection and Processing
In addition to security and privacy, we must organize how to process all collected data, we must first evaluate the amount of processed and collected data to control the size of cloud storage and meet platform requirements.
IoT application involves a huge amount of data. and data collection and processing the same is a challenge for developers. Also, it is significant to make sure the data size is to be stored on the cloud and complies with platform requirements. To make this certain, IoT application development teams should employ data experts, analytic engineers, and machine learning resources to get insights from data stored on the cloud.
IoT data is very important, but it is useless if it gets stored on a server without being processed, So, we must check the skills and tools that can best utilize the data.
IoT data can complete multiple practical functions, including
Supplement Existing Data: Most enterprises already have extensive data about their customers before they migrate their services to IoT. Integrating the existing data with data collected by IoT devices can bring new business insights and more opportunities for generating revenues,
Analyze and Further Divide Users: Data collected by IoT devices can also tell a lot of information about customers' preferences and characteristics. Analyzing and classifying IoT data can help enterprises better learn their customers' requirements and preferences, and enable them to resolve related problems in a wiser manner
Find Opportunities to Improve Products: Correct analysis of IoT data helps enterprises find out functions that should and should not get added to products, and functions that should be corrected to improve production efficiency and ease of use. In this way, enterprises can add appropriate functions to future products and update software accordingly.
Cross-Platform Compatibility
IoT development maintains a balance of hardware and software functions. So, it is a challenge for IoT application developers to ensure that the device and IoT platform deliver the best performance despite heavy OS, device updates, and bug fixings. Many vendors supply SDKs and APIs for developers to add new functionalities to their already-developed applications.
As most IoT applications are integrated into legacy systems, it is no less than a challenge for developers to make the system compliant with industry standards and protocols. While developing the IoT application, developers must ensure that the application can be seamlessly integrated without increasing difficulties in the IoT ecosystem.
Lack of Skill Set
All of the development challenges can only be handled if there is a proper skilled resource working on the IoT application development, IoT is a different field and thus count on resources that are well aware of software and hardware implementations. The right talent will always be the major challenge and will be an important IoT application-development asset.
Untrustworthy Communication
There are many IoT devices that send messages to the network without any encryption. This is one of the biggest IoT security challenges which exists out there. It's high time that all companies ensure encryption of the highest level among their cloud services and devices. To avoid this the best way to do this is to use transport encryption and standards like TLS. Another way to use different networks that isolates different devices.
Outdated Hardware and Software
Nowadays IoT devices are being used increasingly, and the manufacturers of these devices are focusing on building new ones and not paying enough attention to security. A majority of these devices don't get enough updates, whereas some of them never get a single one.
This means that these products are secure at the time of purchase but become vulnerable to attacks when the hackers find some bugs or security issues. When these issues are not fixed by releasing regular updates for hardware and software, the devices remain vulnerable to attacks. For every little thing connected to the Internet, regular updates are a must-have.
Malware and Ransomware
The rapid rise in the development of IoT products will make cyberattack permutations unpredictable. Cybercriminals have become advanced today and they lock out consumers from using their own devices. An IoT-enabled camera captures confidential information from home or the work office and the system is hacked.
The attackers will encrypt the webcam system and not allow consumers to access any information. Since the system contains personal data, they can ask consumers to pay a hefty amount to recover their data. When this occurs, it's called ransomware.
Handling Unstructured Data
In IoT, Devices are rapidly growing every day. Connected devices will increase the challenges of handling unstructured data on the parameters of volume, velocity, and variety, So, the real challenge for the organizations is to examine which data is valuable, as only quality data is actionable data. According to a survey, 80% of today's data is unstructured data and so the data cannot be stored in SQL format. The unstructured data is stored in NoSQL format making retrieval of data a bit complex.
Data Capturing Capabilities
The purpose of capturing data is to transform the information collected from various sources into a standard format that can be analyzed and automated. According to a Hubspot report, sponsored by ParStream, out of 86% of business stakeholders who claim the data is integral to their IoT project, only 8% are able to capture and analyze IoT data in a consistent manner.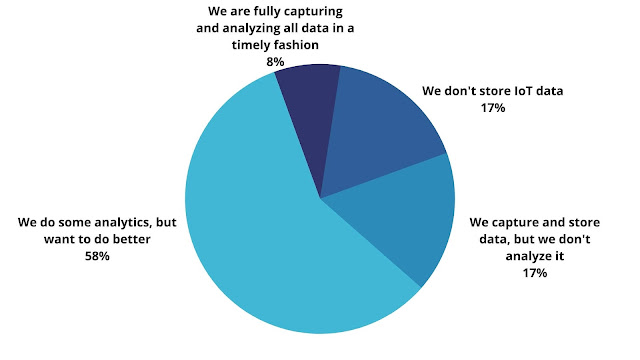 Consumer Awareness
Many people are not aware of IoT, but they understand the dependence on Smart Apps like news apps, stock applications, and entertainment applications. It is important for consumers to how things work technically, but a lack of basic awareness can create a fear of security and cost, which could lead to the slow adoption of technology.
Other IoT Tutorials